Welcome Spring with the Apple Hill Wineries!
Welcome Spring at the Apple Hill wineries
March 19 & 20, 2022

Welcome Spring at the Apple Hill Grower Wineries with special activities and offers that Celebrate Spring!
See printable brochure HERE.
1709 Carson Rd., Placerville
Give new life to Boeger's grapevine and tree trimmings by transforming them into succulent planters! Debbie with Bella Branch guides this DIY class with all the elements needed to create your own enchanted piece of Boeger! Visit https://www.boegerwinery.com/events to purchase tickets.
3205 North Canyon Rd., Camino
Come enjoy Stoneshire Farms Flower Truck to make your own bouquets, a special cheese pairing wine tasting with the Grazing Grouse, and Joan's Apple Bakery bread boxes will be back in the tasting room starting this weekend. **Cheese pairing wine tasting requires reservations, please check https://delfinofarms.com/make-a-reservation/
120 Jacquier Ct., Placerville
Spring into Fenton Herriott Vineyards for some exciting wine knowledge. We will be sharing complementary vertical barrel tastings while our winemaker shares the importance of barrel aging! Stick around and we'll share tastings of our new releases! https://www.fentonherriott.com/
2221 Fruitridge Rd., Placerville
Enjoy a "Spring Fling" in our barrel room with live music, Jamon, Cheese, and other light bites, paired with our new Spring releases. https://lavacap.com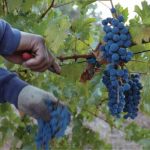 2560 High Hill Rd., Placerville
Join us for an adventurous Spring Tasting….featuring all estate grown wines paired with a grilled caprese panini, and homemade french-fry and aioli tasting! Ever wondered how French fries and wine go together – now is your chance to explore! Reservations suggested at https://MadronaVineyards.com
1900 Hidden Valley Ln., Camino
Come enjoy a flight or glass of wine while gazing at our fabulous view of the South Fork of the American River canyon and our blooming iris knoll. Mention this Spring event and receive a 15% discount on all wine purchases. Reservations recommended. reservations@wavwines.com
Upcoming Association Events