APPLE HILL GROWERS: Johnny Appleseed Day @ Participating Apple Hill Farms
September 17 @ 10:00 am

-

5:00 pm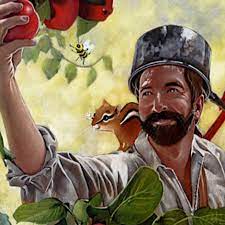 Celebrate the birthday of our folk hero, Johnny Appleseed, who was a frontier nurseryman who established apple orchards throughout America.
In honor of Johnny Appleseed's Birthday, celebration activities will be held at the following Apple Hill Grower ranches on Sunday, September 17, 2023. And for a printable map & flyer, CLICK HERE!
Apple Pantry Farm –
We will be offering an apple turnover tasting event for our Johnny Appleseed participants. From 12pm-2pm while they last! applepantryfarm.com
Apple Ridge Farms –
Free entry to the Hay Maze in honor of Johnny's Birthday. appleridgepies.com
Drew Bean Farms –
Try our special Johnny Appleseed Cider Mimosas. drewbeanfarms.com
Boeger Winery –
We are offering a special wine and sweet treat pairing. Join us. boegerwinery.com
Delfino Farms –
For our Kids Weekend (both Sat & Sun) & Johnny Appleseed Day we do Farm Egg Races, Cooking Classes, Mini Pie Eating Contests, Mini pumpkin decorating, and a Scarecrow Contest.  The schedule will be posted on our social media @delfinofarms and you must be present day of the event to sign up. delfinofarms.com
Grandpa's Cellar –
Treat yourself to an Apple Cider Slushy in apple shaped cups. grandpacellar.com
Harris Family Farm –
Come for a Scavenger Hunt and other fun kids' activities. harrisfamilyfarm.com
Hidden Star Camino –
Enjoy 10% off one flight of hard cider and celebrate the day with a Johnny Appleseed Birthday donut. hiddenstarcamino.com
Jack Russell Farm Brewery & Winery –
Our featured offerings: Fresh Squeezed Apple Ale, Lemonade Hard Cider Mimosas and Non-alcoholic Apple Cider Slushies. jackrusselbrewery.com
O'Halloran's Apple Trail Ranch –
Celebrate with Apple Hill Cake. Visit an apple tree documented to be a graft from one of Johnny's trees. Kids 12 and under to receive a free apple of their choice. U-pick flowers and Pumpkin Patch will be open, too, ohalloranranch.com
Pine O Mine Ranch –
$2 off apple picking for kids. pineomine.com
Rainbow Orchards –
Johnny Appleseed's wee friends are invited over the Rainbow to catch a worm from Johnny's apples. rainboworchards.net
Sloan Winters Mountain Orchard & Garden –
Featuring u-pick veggies and fruit (while supplies last), jams and educational tractor hayrides. sloanwintersorchards.org
Smokey Ridge Ranch –
Offering a free apple for kids 12 and under. smokeyridgeranch.com
Wofford Acres Vineyards –
Receive a 15% discount off two or more bottles of South Fork Cider. Reservations required. wavwines.com
.
Related Events